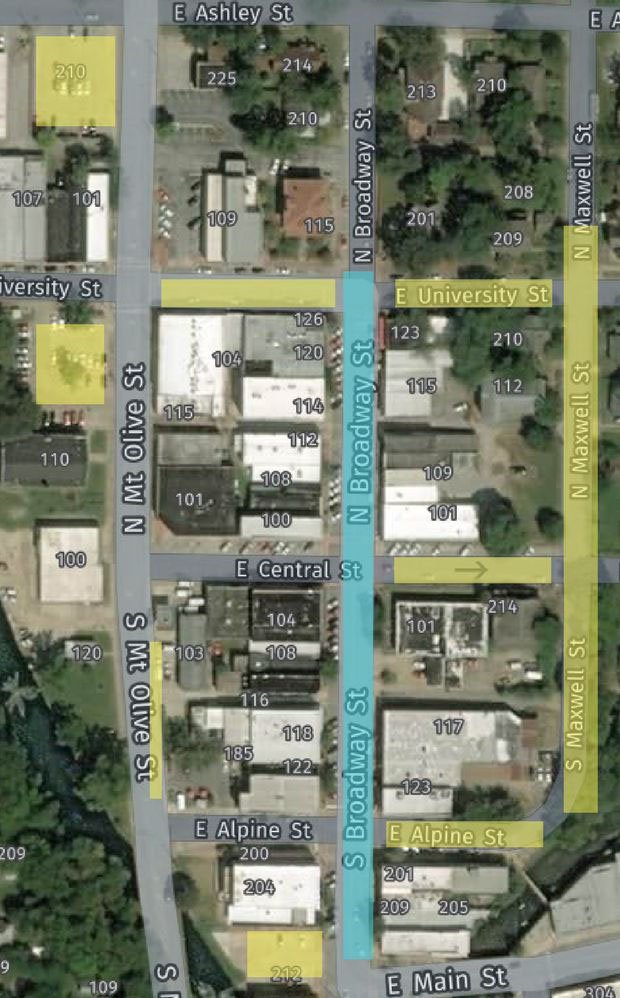 Courtesy photo The city will continue to update maps on its website and social media showing where parking is available during construction downtown. This map shows Phase 1 of the project's construction in the area shaded blue along Broadway Street. Areas shaded yellow are where parking remains available during Phase 1.
Robin Stewart opened Bathetopia in downtown Siloam Springs in 2014. A native of Siloam Springs, she sees ongoing construction downtown as another major improvement to the area.
Construction is scheduled for completion before the 44th annual Dogwood Festival brings an estimated 30,000 people to downtown from April 27-29. In the meantime, Stewart and the city want shoppers to know businesses in the construction zone along Broadway Street remain open with plenty of available parking nearby.
"I put out a couple of videos showing people we're still open and very much alive down here," said Stewart, who also is running several specials during construction to attract customers at her business that sells customized bath and body products "for the entire body, from head to toe."
Stewart comes from a background in residential construction, so she understands it will take time before the project is completed. It includes "bumpouts" that will make downtown safer for pedestrians and motorists and also add amenities like seating areas featuring rain gardens and other landscaping.
"A lot of people don't read the newspaper or see online what's actually happening down here, and it's really a good thing," Stewart said. "I see the progress. These guys are out here working really hard and as fast as they can to make sure this happens as fast as possible.
"So I'm excited to see the outcome. It's going to be very pretty and won't be anything but improved."
Parking is an issue, though, especially when colder weather may keep some shoppers away who don't want to park and walk instead of parking in front of the businesses in the construction zone. The city has put out updated maps on its website (siloamsprings.com) and social media to illustrate where parking is available.
"We'll continue to work with (Downtown Siloam Springs) to inform business owners about everything that's going on," said city engineer Justin Bland. "We're trying to keep as much parking availability down there as we can. If there are any concerns or if there is something that we missed, contact city staff."
The project also includes additional striping and reducing street width while increasing the visibility of pedestrians trying to cross the street. Before, the crosswalks required pedestrains to cross streets that were more than 50 feet wide , but the new construction with the bumpouts reduces that to 22 feet. It's all part of the city's 2014 Downtown Master Plan.
"At the end of the day, pedestrian and traffic will be a lot safer in the downtown area because of these improvements," said senior city planner Don Clark. "There is a perception that there is nowhere to park, but there are plenty of places to park and businesses remain open."
Areas available to park include the Arvest Bank-owned lot at the southwest corner of Ashley Street and Mount Olive Street, the community building parking lot at the southwest corner of Mount Olive and University Street and the city parking lot next to the Hoffman Building. There are parking areas along University and Maxwell Street as well as sections of Central Street, Alpine Street and Mount Olive. In addition, several parking spots remain open along Broadway as long as cars do not block any orange cones that are there for traffic flow.
"When we move into Phase 2 in a couple of weeks this will all change," said city communication director Holland Hayden. "The best thing to do is have people go to the city website at www.siloamsprings.com for the latest information."
Phase 1 construction currently runs about two and a half blocks along Broadway Street between East Main Street and East University Street.
"It's been very interesting watching what all is happening downtown since I grew up here," Stewart said. "It used to be a thriving little area down here, then it went away for a while, and now it's come back in a very positive way, so that's been exciting to see."
General News on 02/11/2018
Print Headline: City: Park, shop downtown during project
Sponsor Content
Comments