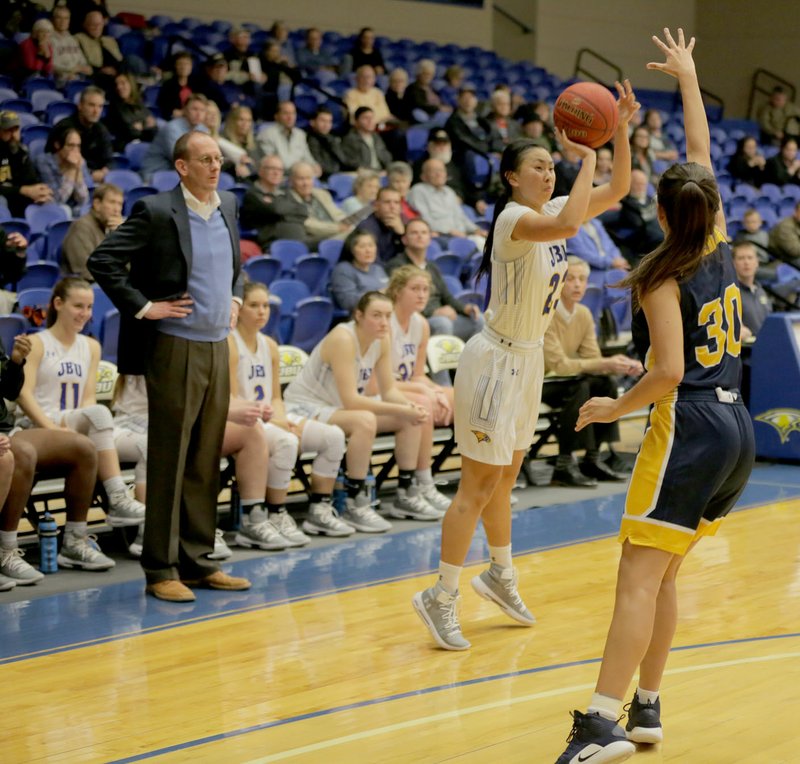 Photo courtesy of John Brown University John Brown senior Karina Chandra launches a 3-pointer in front of the JBU bench as Texas Wesleyan's Nicole Gleason defends during the second half Thursday at Bill George Arena. Texas Wesleyan defeated the Golden Eagles 72-64.
John Brown's women went from shooting red hot to ice cold Thursday and it cost the Golden Eagles in a 72-64 loss against Texas Wesleyan at Bill George Arena.
JBU hit 16 of 26 (61.5 percent) of its field goals in the first half, including 9 of 14 (64.3 percent) from behind the 3-point line, and scored 42 points.
But the Golden Eagles were limited to just 22 points and shot 32 percent in the second half. The Rams, meanwhile, took advantage to storm back and take a fourth-quarter lead. After JBU got it back briefly at 64-62 on a basket by Baily Cameron, the Golden Eagles wouldn't score again and Texas Wesleyan finished the game on a 10-0 run.
"We struggled scoring in the second half and then I thought we had some mental mistakes both offensively and defensively," said JBU head coach Jeff Soderquist. "You've got to give Texas Wesleyan credit. They hit the shots when they needed to and we didn't."
Evie Whorley hit a 3-pointer to give Texas Wesleyan the lead for good at 65-64 and Lexi Burns splashed a deep 3-pointer in front of the Texas Wesleyan bench for a 68-64 lead. Burns then buried 4 of 4 from the free-throw line as the Rams closed out the win and completed the season sweep of JBU. The Rams also defeated JBU 69-61 in Fort Worth, Texas, on Dec. 1.
"I don't know if it was a defensive turnaround or if they just cooled off a little bit," said Texas Wesleyan coach Steve Trachier. "It's kind of funny. We shot 55 percent in the first half. And normally when you do that you're winning, and we were down at halftime. They were shooting 65 percent. I told the kids at halftime, it's unlikely they'll shoot that well again. But everybody knows how good John Brown is here at home, and I said it could happen. We were lucky. They cooled off a little bit and that helped us."
After taking a 17-16 first half lead, JBU looked like it was going to have another strong offensive night in its home floor by scoring 25 points in the second quarter to take a 42-35 halftime lead.
Cameron, who didn't score in the opening period, scored 12 points in less than five minutes to open the second quarter.
Texas Wesleyan pulled within 45-42 in the third but back to back baskets by Ally Teague and Cameron got the lead back to 49-42.
The Rams finished the third quarter on a 10-0 run and scored the first four points of the fourth quarter to flip the lead at 56-51.
"They do a good job," Soderquist said. "I tell you both times we've played them, first time and this time, they make us look bad, and it's a tribute to them and the way they play defense. I think they're very good with their defense."
Texas Wesleyan led 62-56 after a three-point play from Whorley and a 3-pointer from Gleason, but JBU answered to tie the game at 62 after treys from Karina Chandra and Marta Matamala before Cameron's final basket gave JBU its last lead.
Burns led Texas Wesleyan with 21 points, while Nicole Gleason had 16 and Whorley 10.
Cameron finished with 20 points and 10 rebounds to lead JBU.
The Golden Eagles were back in action Saturday against Southwestern Assemblies of God (Texas). Results were not available at presstime.
JBU hosts Southwestern Christian at 6 p.m. Thursday.
Texas Wesleyan 72, John Brown 64
Texas Wesleyan 16 19 17 20 -- 72
John Brown 17 25 9 13 -- 64
Texas Wesleyan (9-11, 7-5): Burns 21, Gleason 16, Whorley 10, Sanchez 8, Ngawuchu 6, Grant 4, Sicurella 3, Davis 2, Benjamin 2.
John Brown (12-7, 8-4): Cameron 20, Fergen 9, Chandra 7, Martin 6, Williams 6, Nelson 5, Teague 3, Altman 3, Matamala 3, Lawson 2.
Sports on 01/27/2019
Print Headline: JBU women cool off in second half
Sponsor Content
Comments